SEKEM Ägypten – Guided by a Vision
SEKEM was founded with the idea of sustainable development and giving back to the community. The Vision that brought Dr. Ibrahim Abouleish to dig the first well in the vast desert land still resounds in SEKEMs approach of conducting business. Like a compass, the Vision, Mission and Values guide all people in the every work in all SEKEM companies.
Sustainable developmen towards a future where every human being can unfold his or her individual potential; where mankind is living together in social forms reflecting human dignity; and where all economic activety is conducted in accordance with ecological and ethical principles.
One of the initiative's cultural projects, the HELIOPOLIS University, has come into being in Heliopolis, on the edge of Cairo's metropolitan area. This institution is building bridges between the world's cultures of traditional knowledge and the uniformity of research, teaching and practice. The university includes faculties of engineering, business, science and humanities.
Read more: www.sekem.com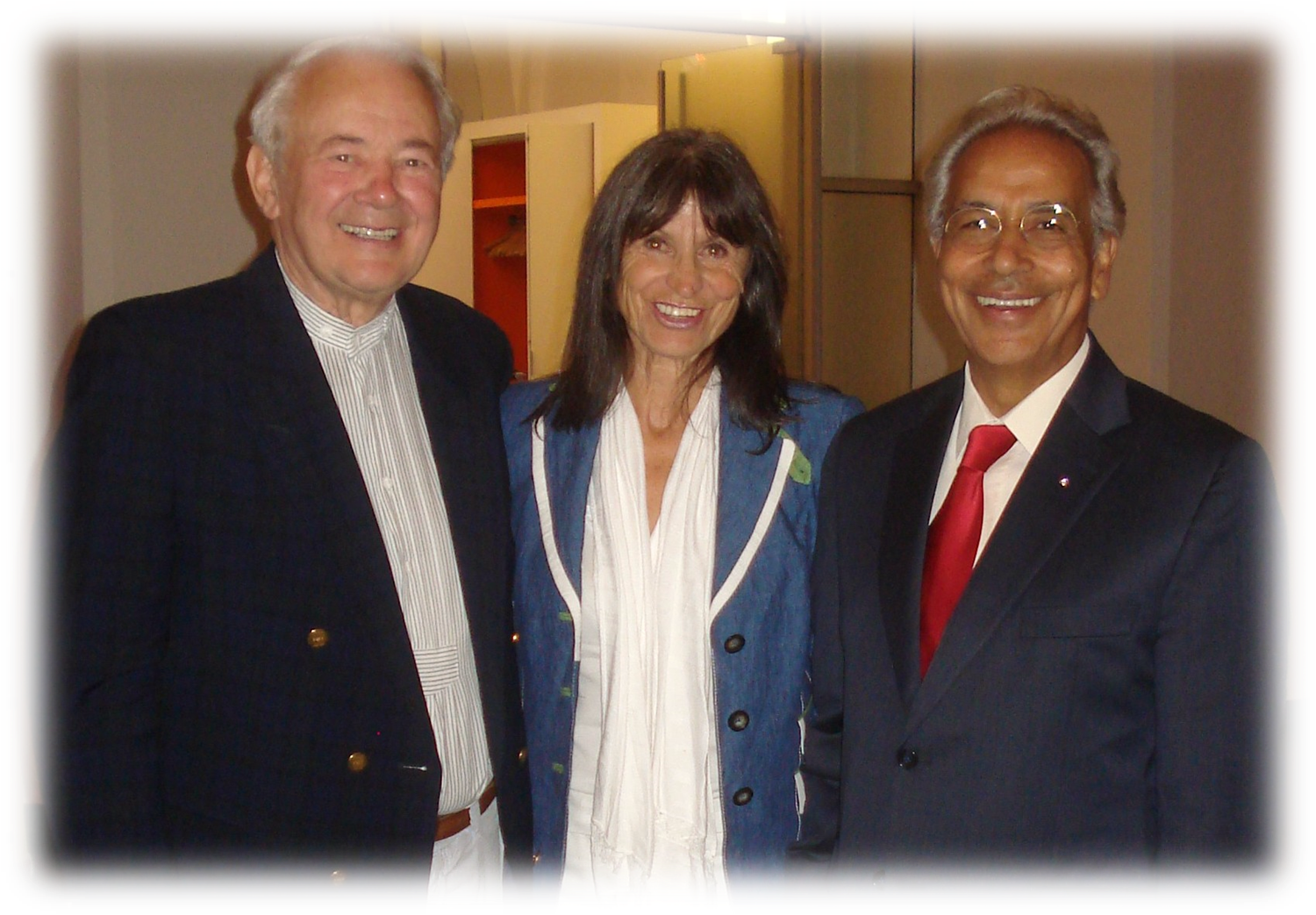 Willy Augustat (International Association PEACE through CULTURE, Pax Universalis),
Marion Spielmann & Dr. Ibrahim Abouleish (Sekem Development Foundation)
International Association PEACE through CULTURE
"PEACE" translated into a more common term is also equivalent to social "HARMONY". HARMONY is a reflection of a creative dynamic process of a social-system, free of any violence, based on ground rules of ETHICAL Principles, balanced by political leaders. A Leadership cooperating on a spiritual, cultural and political level can lead mankind into future.
'The Int. Association "PEACE through CULTURE" defines its own understanding of the term CULTURE to be mainly a reflection of ETHICS (expressed in character). Members and co-workers consist of "idealistic Realist's" or realistic Idealist's. Activities are based on the fundaments of the "PAX CULTURA" (peace through Culture-Pact) initiated in 1935 – for the sake of Cosmic Order, in its reflection of Beauty and Peace.
Althrough one part of mankind is convinced until today that World Peace sought after by all people can only be secured by means of weapons, there are more and more people who understand, that World Peace can only be the result of a non-violent development. 'the horrible conflicts and wars induced in the 20th century speak for themselves.
In the new global view which has become stronger and stronger towards the end of the 20th century and the beginning of the 3rd millenium, we increasingly realize through the progress of sience that Earth and her inhabitants are a part of a larger, all comprising Unity. This Unity is our macrocosmos. The outdated and wrong conception of the world which had placed human beings in the centre of cosmic events has to be corrected consequently, in accordance with an expandes cognition of a cosmic structure of our world.
(www.peace-through-culture.org)
————————————————————————–
The World Future Council
The World Future Council (WFC) is an independent body formally founded in Hamburg, Germany on 10 May 2007. Formed to speak on behalf of policy solutions that serve the interests of future generations, it includes members active in governmental bodies, civil society, business sience and arts. The WFCs primary focus has been climate security, promoting laws such as the renewable energy Feed-in-tariff.
The WFC is making politicians aware that they have an ethical responsibility to assess every decision-making process on the basis of how it will affect future generations. (www.worldfuturecouncil.org)